Boozyshop Ferulic Acid Spot & Pigmentation Serum
Het Boozyshop Ferulic Acid Spot & Pigmentation Serum is een egaliserend en verhelderend serum dat er speciaal voor gemaakt is om vroegtijdige huidveroudering zoals rimpels, fijne lijntjes en bruine vlekjes tegen te gaan.
Dit serum bevat een krachtige antioxidant wat ervoor zorgt dat je huid minder snel ouderdomsverschijnselen zal vertonen. Het geeft je huid als het ware een beschermingslaagje dat schadelijke invloeden van buitenaf tegengaat.
Dit serum is rijk aan Niacinamide, een ingrediënt dat overtollig talg opneemt en de uitbraak van nieuwe onzuiverheden voorkomt. Tevens stimuleert Niacinamide de aanmaak van collageen, waardoor je huidelasticiteit verbetert. 
Daarnaast bevat dit serum Stay-C 50: een vorm van vitamine C dat er voor zorgt dat jouw huid egaliseert. De zichtbaarheid van pigmentvlekjes en donkere plekjes als gevolg van acne worden verminderd en je huid zal dankzij deze antioxidant beter reageren op andere huidverzorgingsproducten. Het resultaat is een egale, stralende huid.
Dit serum:
geschikt voor alle huidtypen
pakt vroegtijdige huidveroudering aan
voorkomt rimpels, fijne lijntjes en bruine vlekken
vermindert zichtbaarheid van pigmentvlekken
voorkomt onzuiverheden
verbetert de huidelasticiteit
egaliserende en verhelderende werking
rijk aan niacinamide en stay-c 50
vrij van alcohol en parfum
vrij van parabenen, sulfaten en siliconen
vegan
cruelty free
How to use:
Breng twee druppels serum aan op een droge, gereinigde huid.
Masseer het serum met je vingertoppen in je huid, totdat alles is opgenomen.
Voor een optimaal resultaat, gebruik je de Boozyshop Rose Quarz Roller.
Bewaar dit serum op een donkere plaats.
Ingrediënten:
Aqua (Water), Glycerin, Propanediol, Phenoxyethanol, Benzyl Alcohol, Niacinamide, Sodium Ascorbyl Phosphate, Hydroxyethylcellulose, Ferulic Acid, Sodium Gluconate, Ethylhexylglycerin, Trisodium Ethylenediamine Disuccinate, Dehydroacetic Acid, Sodium Hydroxide.
Inhoud: 30 ml.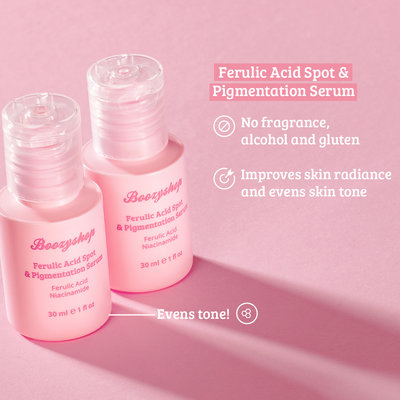 Fijn in gebruik, kan echter nog niet zeggen of de pigmentvlekken verminderd zijn
het is super fijn mooi zacht egale huid.
Ik heb de volledige lijn en door mijn mond masker heb ik onzuiverheden en mijn huid is nu zoveel egaler dan ervoor. TOP product
Ik gebruik het nu, ik denk 2 weken als spot treatment op een vlekje die ik heb vanwege acne. Had niet veel verwachtingen maar het is echt al verminderd. Benieuwd of het erg gaat na langdurig gebruik.
Super fijn product, zuinig in gebruik en het voelt heerlijk aan toppie