Boozyshop Watermelon Tanning & Body Oil
De Boozyshop Watermelon Tanning & Body Oil is een verzachtende, voedende olie die er voor zorgt dat jouw huid een diepe teint krijgt terwijl je ligt te zonnen. Deze olie kan voor zowel lichaam als gezicht worden gebruikt.
Deze tanning oil is rijk aan plantaardige oliën, die jouw huid zijdezacht laten aanvoelen. Argan olie heeft een intens hydraterende werking en zorgt er voor dat een droge huid na het zonnen verleden tijd is. Tevens zorgt deze olie er voor dat fijne lijntjes zichtbaar verminderen.
De Watermeloen-olie heeft een beschermende en verzachtende werking en zorgt er voor dat de tanning oil snel in je huid trekt. Over een plakkerige huid hoef je je geen zorgen te maken!
Na een dagje zonnen met de Boozyshop Watermelon Tanning & Body Oil voelt jouw huid weer zacht aan een heeft je huid een prachtige teint.
Deze olie:
geschikt voor alle huidtypen
te gebruiken op zowel lichaam als gezicht
geeft je huid een diepe teint
hydrateert, verzacht en voedt je huid
vermindert fijne lijntjes
voor een prachtige, natuurlijke glow
rijk aan plantaardige oliën
bestaat voor 97% uit natuurlijke ingrediënten
vegan
cruelty free
How to use:
Breng een royale laag aan op je huid terwijl je in de zon ligt.
Verdeel de olie gelijkmatig over je huid en masseer dit in met je handen.
Gebruik altijd zonbescherming wanneer je deze olie gebruikt.
PS. Gebruik een tanning oil altijd in combinatie met een SPF! Breng dan eerst de tanning oil aan en laat deze enkele minuten intrekken, daarna breng je jouw favoriete SPF aan. 
Ingrediënten:
Octyldodecanol, Prunus Amygdalus Dulcis Oil (Prunus Amygdalus Dulcis (Sweet Almond) Oil), Coco-Caprylate, Simmondsia Chinensis Seed Oil (Simmondsia Chinensis (Jojoba) Seed Oil), Isononyl Isononanoate, Argania Spinosa Kernel Oil, Tocopheryl Acetate, Citrullus Lanatus Seed Oil(Citrullus Lanatus(Watermelon)Seed Oil), Vitis Vinifera Seed Oil (Vitis Vinifera (Grape) Seed Oil), Cocos Nucifera Oil (Cocos Nucifera (Coconut) Oil), Tocopherol.
Inhoud: 100 ml.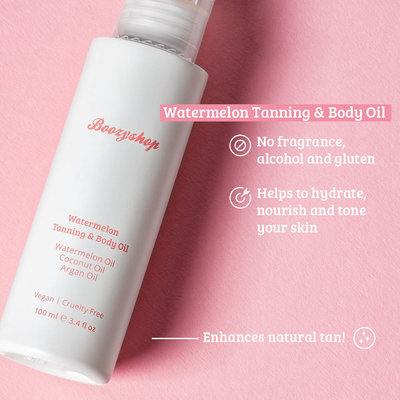 Heerlijk spul en je krijgt echt een mooie kleur.
Smeert goed uit en is geurloos! Ik vind persoonlijk het flesje een beetje aan de kleine kant.
De vloeistof loopt er snel uit waardoor je minder goed controle hebt over hoeveel product je wil.
WAUW! Ik verkleur echt niet meer door de zon vroeger als kind wel maar helaas verkleur ik niet meer. Ik heb deze tanning oil aangeschaft en ben door 2 uurtjes in de zon een beetje verkleurt! Heb er wel SPF overheen gedaan uiteraard. Ik ben ontzettend tevreden en ben benieuwd of ik nog bruiner kan gaan worden.
Getest op 1 arm, om te kijken of het werkt. En het werkt, echt... zag direct na een korte tijd in de zon al verschil tussen m'n armen! Ook mijn moeder zag het verschil. Benieuwd wat het doet na middagje bakken.
Nu twee keer gebruikt onder de zonnebank en zie echt verschil. Mijn huid is ook heel zacht. Benieuwd wat het straks doet met de ☀️